DEAR READERS!
Where would Flying Hope and its team of pilots be without the great support from all parts of society?

Above all, where would be the many children with life-limiting illnesses that we would not be able to fly without this support.

This is exactly why we have set up this Thank You page, so that you too may join us in expressing our gratitude to all our friends and supporters.

Your team of Flying Hope e.V.
09/01/2023 CHORRAGE OF THE DÜSSELDORF POLICE CONCERT "MILLION LIGHTS"
Mega, which is great: that people of all ages and genders get together to sing together in large groups – the police choirs. And how great and what beautiful titles they presented on Friday evening under the title "Millionen Lights" in Düsseldorf under the overall direction of Stefan Scheidtweiler! As a result, the atmosphere in the audience was unbelievable.
But that they also dedicated this event to Flying Hope, with detailed explanations both in the event folder and during the concert, and also announced a donation: thank you thank you thank you. Not only we, but also the children who benefit from them will be more than grateful to them.
Your Flying Hope e.V. team
Dr. Helmut Röth
In April 2023 Dr. Helmut Röth, Mettmann, private pilot and very much connected to flying all his life, passed away.
We are very pleased that on the occasion of the funeral service for Dr. Röth donations for Flying Hope e.V. were requested.
With a donation of 2.000 € we can now finance the next flight of a sick child e.g. to a hospital stay.
Many thanks in the name of the children for this valuable support.
Your team of Flying Hope e.V.
AERO AND FLIEGERMAGAZIN
Many thanks to the organizers of the AERO, who invited us again and provided us with a booth free of charge.
How great, when you consider that our level of awareness – especially among pilots – increases every year as desired.
And also in this context, many thanks for the interview and for the communication on the part of FliegerMagazin. The podcast of the joint interview of several non-profit associations, all of which are involved with flights for the benefit of parts of the most diverse societies, can be followed here at any time.
https://www.fliegermagazin.de/news/hilfsfluege-wie-koennen-privatpiloten-helfen/
Your team of Flying Hope e.V.
SPONSORED RUN IN SOLINGEN
The Municipal Community Primary School Meigen in Solingen organized a sponsored run this school year with great success.
From the handsome donation sum, not only a nice circus project was supported, but also a great donation of 2.000 € was given to Flying Hope.
We were allowed to receive the donation check personally.
Many thanks to Mrs. Petra Ehrenfeld, principal, for this great engagement and of course a special thank you to the students of the elementary school Meigen and the teachers, who also supported the project.
Your team of Flying Hope e.V.
Donation Theo Steil GmbH
Many thanks to the management and employees of the Steil Group from Trier for a generous donation of €7,500.
With this sum we can finance the refueling of further flights with sick children.
The Steil Group is an innovative recycling company group with a focus on recycling, disposal and logistics. The family business, founded in 1924, employs around 700 people at home and abroad and has been making a significant contribution to environmental and resource protection for almost a century now.
The Steil Group, headquartered in Trier, has 15 branches in Germany and neighboring European countries.
Thank you very much from the team at Flying Hope e.V.
HOW GREAT !!!
Once again the Bavarians have brought forth one (or even two) new heroes: at least the tower controller in Augsburg and the watch chief in Munich – this refers to our flight with little Korbinian on April 1, 2023 from Augsburg to Cologne/Bonn to the clinic .
Our pilot Klaus Wybranietz and co-pilot Marc Ulm get a slot – they can set off with the sick child at 11:30 a.m. local time. After the Flying Hope "guests" have boarded and all the accessories have been loaded – which was really difficult, e.g. loading and assembling the heavy buggy and the heavy child seat – all guests are seated, strapped in, briefed and have headsets on.
Because the pilots want to request the turbine start at 11:30! But 10 seconds before, a text message arrives from the new Munich computer saying that they have to wait until 3:05 p.m. – new slot 3:05 p.m.! (no joke and no joke)
The tower controller in Augsburg immediately picks up the phone, informs the watch chief in Munich and as a result the machine can start immediately!
"You are free to take off at your filed departure time"
Many thanks to these two – our Flying Hope heroes that day – for the great support.
Your team from Flying Hope e.V.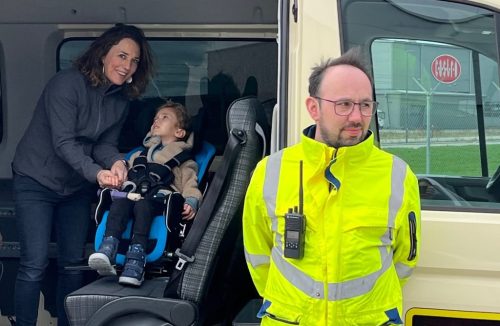 Flight to Piestany Slovakia
Piestany on March 19th
For the first time "in their live",  the team of the airport of Piestany had to expect an incoming Flying Hope flight with a severely ill child, this on Sunday, a day when the airport normally is closed. Without any hesitation they opened the airport and only charged us a small part of the normal fee, did not ask for landing fees and offered us cheap JetA1.
How great!! Thank you so much for your support. 
The family – and Flying Hope ♥ you.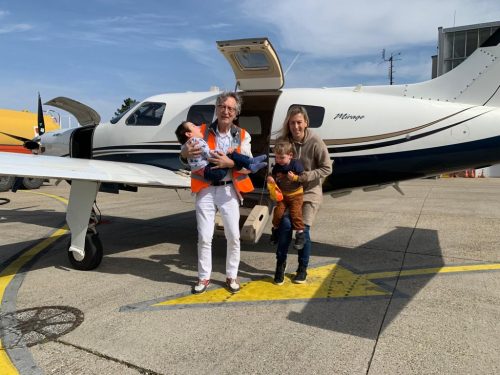 Thank you very much
to my practice team, who not only prepared a donation check for my birthday, but also promised to carry their boss into the machine if necessary :)))
If that's not a great offer…
Dr. Michael Offerman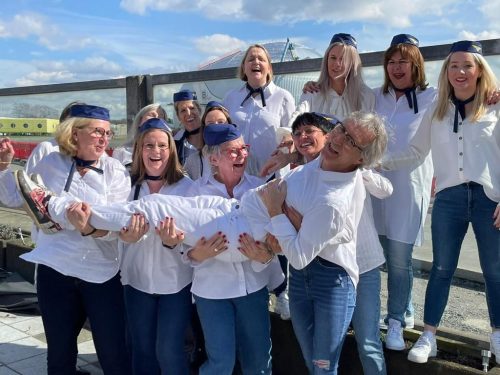 THANK YOU TO OUR FAITHFUL MEMBERS
This year we can once again say a big thank you to our over 250 Flying Hope members.
We are very pleased that you have been supporting our work effectively and consistently for many years through your active membership and, in some cases, annual donations. This is funding that goes directly to the children affected and – even in increasingly expensive times – guarantees that we can make everyday life a little easier for sick children and families with a quick flight.
We thank you from the bottom of our hearts for your loyalty and trust in investing in our work.
Your team from Flying Hope e.V.
Donation from Hitachi Solutions
Some employees of Hitachi Solutions Germany GmbH, Nuremberg, were so enthusiastic about the work of our pilot network that they organized an employee donation.
Today we received this generous donation of €1,600! We will use this sum to transport little Benjamin by air from Essen to Hamburg for a hospital stay in February.
Thank you very much for this great commitment on behalf of the children!
We hope that this great idea will find many imitators.
Your team from Flying Hope e.V.
Donation "Postler für Dich"
The association of postal employees "Postler für Dich e.V." has once again given a donation to our association Flying Hope during their Christmas miracle fundraiser.
Thank you very much for the excellent donation of €2,463 that we received this week.
We are very grateful for this wonderful support and would like to thank all donors.
Your Flying Hope team
Thank you for your donation!
At the end of the year we received numerous donations.
Many thanks to all friends and supporters of Flying Hope e.V.
With your donation we will be able to make many flights possible again next year for children with life-limiting illnesses.
We look forward to every flight request in the new year.
Please continue to support our nonprofit pilot network.
Thank you very much on behalf of the children.
Your Flying Hope team
Donation DFS German air traffic control
That can not be true 🙂
The DFS supported us in our efforts to obtain our own ID/identification from the ICAO,
the DFS stands up for us when it comes to avoiding slots,
DFS understands us very well when we don't understand why we have to pay approach fees even though all seats let us land for free, and
To make matters worse, DFS Flying Hope is donating €1,500 to the Mönchengladbach Airport tower before Christmas.
How are we supposed to be able to thank you for that? Probably just with even more flights to give even more children the chance to benefit from our offer.
Thank you very much!
Your Flying Hope Team
Tooth/old gold donations for Flying Hope
Many thanks to the dental practice of Dr. Großkopf from Bonn, who once again collected a great donation of €5,000 for Flying Hope this November.
The tooth/old gold donations from Dr. Großkopf made this excellent donation possible.
We thank you from the bottom of our hearts on behalf of the sick children and please continue to support the work of Flying Hope.
Thank you GAT Airports
Dear general aviation teams from all airports in Germany and Austria, thank you very much for your recurring "super support".
This thank you comes not only from us, but primarily from the children for whom we continue to work together.
Here's to continued great collaboration in 2023.
Your Flying Hope Team
Donation Rotarian Essen Mülheim
We would like to say a big thank you to the Rotarian Club Essen Mülheim. With your donation you support the flight of little Felix last Sunday from Essen Mülheim to a clinic in Graz. Refueling the aircraft is expensive and with this support we can finance part of the flight costs.
This is help that goes directly to the sick children and helps us specifically with flight planning.
Your team from Flying Hope e.V.
Donations instead of gifts - a good idea!
As one example of many, we would like to take this opportunity to say a big thank you to Mr. Julian Kehrle. On the occasion of his 35th birthday there were no gifts, but donations totaling €1,500 for Flying Hope e.V.
This is support that goes directly to the children affected and makes further flights possible.
Thank you very much for this outstanding commitment.
Check-in Podcast with Dr. Michael Offerman
https://www.abendblatt.de/podcast/
Check-in podcast about Hamburg Airport. Berndt Röttger, deputy. Abendblatt editor talks to interesting people who make us stand out. This time with Dr. Michael Offermann, Chairman of the Board of Flying Hope e.V.
Simulator room setup
I would also like to say a big thank you to the board of directors for a job that they never actually have: cleaning, sweeping, cleaning, setting up shelves and putting them away.
With the success that the simulator room at Essen Mülheim Airport is now finished and looks really good.
Flughafen Hamburg Support
Wow wow wow
die Mühe, die sich der Flughafen Hamburg mit Flying Hope Flügen gibt, ist immer wieder überwältigend.
Stets eine optimale Parkposition, im Fall der Fälle werden die Kinder mit einem Wagen des Bodenpersonals zur Klinik gefahren, und, wie am letzten Wochenende, als wir zwei Nächte in Hamburg auf Constanze gewartet haben, wurde die Maschine mal eben kostenlos in den Hangar gestellt.
Besten Dank diesbezüglich insbesondere an den Chef des "Bodens" : Christian Noack.  Wir kommen immer wieder total gerne nach Hamburg.
Artikel Flug Benjamin
Herzlichen Dank an Frau Dr. Susan Tuchel für ihren hervorragenden Artikel über den Flug mit Benjamin.
Dr. Susan Tuchel
Remscheider Straße 6
40215 Düsseldorf
Telefon: 0211-37 05 11
Mobil: 0179-706 38 52
Unsere Piloten
Hier ein sehr wichtiges Dankeschön, und zwar an unsere Piloten – an wen sonst!
Genau, bei wem sonst, außer den für uns tätigen ehrenamtlichen Piloten würde es Sinn machen, täglich Dankeschön zu sagen.
Erst Ende September war Barbara Drauz in der Geschäftsstelle traurig, dass von den 18 angefragten Flügen für Oktober kaum einer den Familien zugesagt werden konnte – natürlich sind Herbst-Ferien auch für Piloten zulässig.
Drei Tage nach einer entsprechenden Mail an alle Piloten, sind komplett alle Flüge vergeben!
Demzufolge, allerbesten Dank und größtes Lob an unsere Flying Hope Piloten. Danke Jungs! 
AIR BP Sponsoring
Es wird wirklich Zeit…
nämlich Herrn Klenke in Hamburg und AIR BP deutschlandweit allerbesten Dank dafür zu sagen, dass er es mit und für BP möglich gemacht hat, den Flying Hope Piloten eine zweite Tankkarte für Flying Hope Flüge zur Verfügung zu stellen.
Die Betankung der Flüge wird dadurch deutlich günstiger – und dies schon seit vielen Jahren!
Nochmals: Allerbesten Dank – dies ist eine Hilfe, die direkt bei den kranken Kindern ankommt.
Jeppesen
Dieser Slogan scheint zu stimmen:
Denn Elena Stjepovic von Jeppesen Deutschland in Neu-Isenburg hat uns bereits vor Jahren zu einer der sehr seltenen Großveranstaltungen von Jeppesen für die Piloten der Allgemeinen Luftfahrt eingeladen, mit der Folge, dass Flying Hope mit einer Spende von Jeppesen in Höhe von 2.000 € bedacht wurde und das auch in Folgejahren. 
Allerbesten Dank – nicht nur die Jeppesen Karten sind perfekt!
Große Spende
Familienzahnarztpraxis Dr. Beate Jürgens & Partner spendet mit It´s for Kids 8.000 Euro
Endlich wieder zum Luegalleefest gehen zu können, diese Chance nutzten am letzten Sonntag in den Sommerferien bei strahlend blauem Himmel und hochsommerlichen Temperaturen nicht nur viele Oberkasseler Bürgerinnen und Bürger. Das Luegalleefest ist auch jenseits des Rheins bekannt. Ein beliebter Anlaufpunkt ist der Barbarossa-Brunnen, wo seit zehn Jahren das Team der Zahnarztpraxis Dr. Beate Jürgens & Partner einen Stand hat. Hauptattraktion war auch in diesem Jahr das Glücksrad. "Wir haben viele Besucher, die jedes Jahr zu uns kommen, weil sie wissen, dass wir die kompletten Einnahmen für Kinder spenden, die nicht so viel Glück im Leben haben", so Dr. Beate Jürgens. Kommt das Glücksrad bei einer Visitenkarte der Praxis zum Stillstand, erwarten die Glücksritter hochwertige Sachpreise oder Gutscheine. Hauptgewinn in diesem Jahr waren zwei Rundflüge über Düsseldorf, geponsert von Flying Hope.
400 Mal wurde das Glücksrad gedreht – ein neuer Rekord. 2.000 Euro kamen so schon einmal in die Spendenkasse. Diesen Betrag verdoppelten die beiden Zahnärztinnen Dr. Beate Jürgens und Dr. Susanne Hörmann aus eigener Tasche. Hinzu kamen noch 1.900 Euro Altgold, die Patientinnen und Patienten It`s for Kids gespendet hatten. Die Spendenorganisation mit Sitz in Hilden freute sich über den Einsatz und rundete den Betrag der Praxis auf 8.000 Euro auf.
Jetzt gehen 8.000 Euro an zwei Herzensprojekte der Oberkasseler Familienzahnarztpraxis. Über 4.000 Euro freut sich das Düsseldorfer Pilotennetzwerk Flying Hope, das schwerkranke Kinder kostenlos zu medizinischen Behandlungen oder Kuraufenthalten fliegt. Und mit 4.000 Euro werden Projekte zugunsten von Kindern und Jugendlichen von Sterntaler e.V. unterstützt.
BU: Klaus Wiercimok von li. n. re. (Vorstand Flying Hope), Dr. Beate Jürgens und Dr. Susanne Hörmann gratulieren Hanh Kaul, die einen Rundflug mit Flying Hope gewonnen hat
Jetzt ist die Welt in Ordnung
Einfach Danke sagen
Wenn man in der glücklichen Situation ist, eine "Danke-Seite"  auf der eigenen Homepage nutzen zu können, die erkennen lässt, wie viele Menschen sich für unser gemeinnütziges Pilotennetzwerk einsetzen, dann ist das eine hervorragende Möglichkeit.
Daher allerbesten Dank an die Herren Carsten Köchel, Sebastian Filip sowie an Ekaterina Rettberg von ComKom Bochum, welche unsere Homepage vor einigen Jahren entworfen und nun die Danke-Spalte für Flying Hope programmiert und gespendet haben.
Was für eine schöne Möglichkeit,  Danke sagen zu können!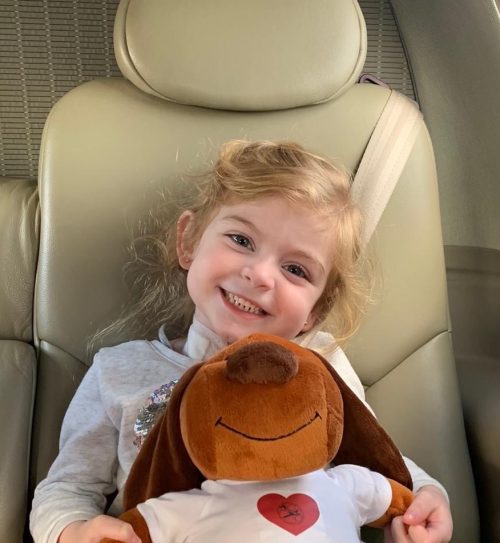 Mediale Unterstützung
Zwei Artikel in der WAZ  über das "Flying Hope Fly in" am 18.6.2022 sowie einen Flug mit einem kranken kleinen Jungen haben viele Leser und Medien erreicht und berührt.  
U.a. hat sich der WDR mit dem Angebot eines Interviews am 17.8.22 für das Format "Hier und heute" gemeldet. Dieses Angebot haben wir gerne angenommen:
Besten Dank an Laura Lindemann von der Funke Mediengruppe sowie Frederike Föllmer vom WDR  für die tolle, mediale Unterstützung!
Schneller Slot für Flying Hope
–  eine tolle Unterstützung:
Der 2jährige Leon kommt nach seinem anstrengenden Krankenhausaufenthalt in Rostock an Bord;  wir können theoretisch starten, nur im selben Moment erreicht uns ein  Slot mir einer Verschiebung unseres Starts um mehr als 1 Stunde. Und das bei der Hitze sowie in Anbetracht der Tatsache, dass sich die Wetterverhältnisse auf der Strecke in Form von teilweise unglaublich großen Gewittern von Minute zu Minute verschlechtern.
Keiner kann helfen, einzig: die beiden Helden*innen des Tages, der Wachleiter aus München Dietmar Oschkenat und Doris Leonhards auf der Flow Management Position (FMP).
Die Bremer wussten zu berichten, dass der Slot durch 5 Limitierungen im Münchener Luftraum zu Stande gekommen war.
Dann ging alles ganz schnell: die super kooperativen Münchner konnte sofort nachvollziehen, dass ein Flying Hope Hospital Flight mit Kind nicht am Boden bleiben darf,  hat sämtliche Restriktionen "abgestellt" und ein paar Minuten später waren wir in der Luft.
Allerbesten Dank dafür von Flying Hope und Allen an Bord von FHG1!
LANDUNG IN ERDING
Wow, da sieht man einmal, was möglich ist.
Durch eine perfekte Kooperation von DFS, Herrn Karl Oexler vom Luftamt Südbayern sowie dem Kasernenkommandant Fliegerhorst Erding, darf Flying Hope die 5jährige Amelie direkt nach Erding fliegen; einem eigentlich nicht mehr existierenden Flughafen, nahe dem internationalen Flughafen München (dessen Team sich ebenfalls um uns bevorzugt gekümmert hätte).
Allerbesten Dank
Zahnarztpraxis Dr. Beate Jürgens & Partner
Seit über 10 Jahren unterstützen Frau Dr. Beate Jürgens und Frau Dr. Susanne Hörmann die Arbeit von Flying Hope e.V. mit zahlreichen Spendenaktionen.
Auch in diesem Jahr konnten wir wieder einen Spendenscheck in Höhe von 5.000 € in Empfang nehmen.
Herzlichen Dank für dieses hervorragende Engagement! 
DEUTSCHE FLUGSICHERUNG DFS
Die DFS hat uns 100 %ig unterstützt, als wir Mitte 2022 eine individuelle Flight ID für Flying Hope Flüge bei der ICAO in Kanada beantragt haben.
Und wenige Wochen später kam die Genehmigung – und das kostenlos – statt mehrerer Tausend US Dollar!
FHG… (Flying Hope Germany …)
Wir danken Frau Sharron Morin, ICAO, und Herrn Sebastian Sowa, DFS, herzlich für ihre tolle Unterstützung. 
Design der Bordkarte
Wo wären wir, wenn nicht alle potentiellen Mitglieder oder weitere Unterstützer mit Hilfe unserer schönen Bordkarte tatsächlich "an Bord kommen" könnten.
Diese Bordkarte, ebenso wie Visitenkarten, verdanken wir Christoph Parbel und seiner Event Management Firma APA, Koblenz.
Dort wurde nicht nur die Karte entworfen, sondern auch hundertfach kostenfrei für Flying Hope gedruckt.
Herzlichen Dank Christoph
Aero Messe 2022
Tolles Engagement:
Tobias Bretzel, der Organisator der AERO 2022 in Friedrichshafen, hat Flying Hope nicht nur spontan auf die AERO eingeladen, nachdem seine Schwester (Journalistin) ihm von unseren Flügen berichtet hat, sondern zudem auch noch kostenlos einen tollen Messe-Stand in Halle 5 zur Verfügung gestellt.
Auf der Messe konnten wir viele wertvolle Kontakte schließen und zudem – Dank vieler fleißiger Helfer –  Spenden für unseren Verein sammeln, worüber wir sehr dankbar sind. 
Allerbesten Dank
Oldtimer-Treffen Essen Mülheim
– wenn es uns bislang nicht klar war, was ein Oldtimer-Treffen und Flying Hope miteinander zu tun haben, ist uns dieser Zusammenhang spätestens am Sonntag, 7. August 2022 auf dem Flughafen Essen Mülheim bewusst geworden:
Andreas Lummertzheim, Ted Terdisch und Dimitri Fefelow vom  "checkin" Restaurant hatten FH zu diesem Event eingeladen. Als wunderbares Resultat kamen neue Mitgliedschaften und über 1000 € Spenden seitens der Teilnehmer zusammen.
Perfekt – allerbesten Dank